HubSpot and Salesforce stand out as prominent CRM solutions available in the market, providing comprehensive CRM platforms suitable for businesses of various sizes, from small enterprises to large corporations. However, the question remains: Which CRM aligns best with your needs? The 'HubSpot vs. Salesforce' decision is a common challenge for many organizations. Therefore, delving into the strengths and limitations of these CRMs before making a choice can be invaluable.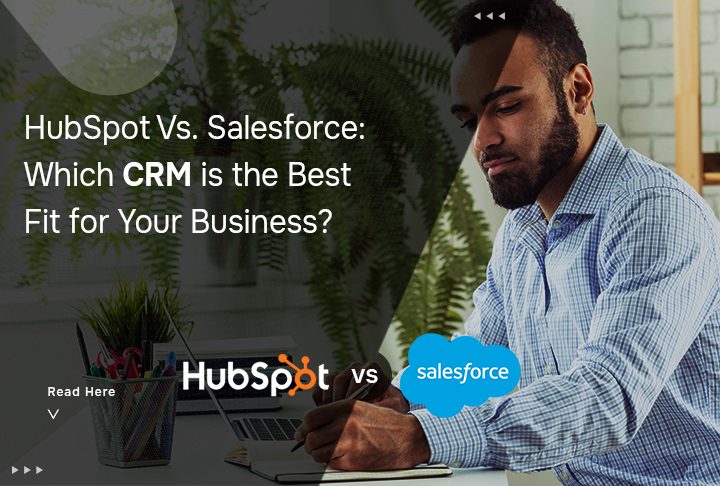 The Challenges of Choosing an Enterprise Software Solution

---
After conducting a basic needs analysis. One of the primary considerations is often which option delivers the necessary features at the lowest cost. Still, it's essential to factor in the total cost of ownership, including implementation and lead time. However, this is just the beginning of the decision-making process, as many other critical questions exist. For instance, how many different user types do you need to support, and will one solution be more customizable? Making an informed decision requires a thorough understanding of your business's unique needs and requirements, as well as a careful examination of the strengths and weaknesses of each CRM option. So let's jump into a detailed discussion on Hubspot vs. Salesforce.
Comparing CRM License Costs
---
Understanding the licensing expenses associated with a CRM typically constitutes the most straightforward facet during the decision-making journey, yet it retains its intricacies. This cost factor often hinges on the number of users necessitated and the distinct prerequisites of each user. Both HubSpot and Salesforce proffer an array of service tiers, encompassing categories such as "Basic" or "Starter," extending to "Enterprise" or "Unlimited." While HubSpot introduces a complimentary version, it comes with restricted functionalities.
When undertaking a direct comparison, some paid solutions might prove more economical with Salesforce, while others exhibit cost efficiency with HubSpot. Nonetheless, a significant portion of online research underscores HubSpot's affordability, particularly in the context of micro-enterprises. However, it is imperative to tread cautiously, as the concealed expenses and requisite inclusions over time could harbor potential pitfalls.
Solely gauging cost per user, HubSpot generally emerges as the budget-friendlier option, rendering it an optimal match for smaller enterprises, contingent upon their proportions and precise prerequisites.
Winner: HubSpot
Implementation and Scalability Considerations
---
HubSpot is often touted as a lean and easy-to-implement CRM solution, particularly for small businesses. However, "one size fits all" usually means "one size fits none." For growing businesses, it's crucial to consider legacy application support, necessary add-ons, and scalability. Salesforce is typically easier to integrate with legacy solutions, resulting in lower development costs over time. Salesforce was designed to support thousands of custom add-ons, and the AppExchange offers thousands of pre-built solutions that can be purchased with a single click for less than building them in-house.HubSpot's lightweight interface is intuitive and clean, making it easier for new users to onboard with minimal training. However, with the introduction of Salesforce's Lightning interface in 2016, the gap between the two solutions has narrowed significantly, and the decision between HubSpot and Salesforce is no longer as straightforward. WINNER: It's a tie.
Customization Perspective
---
Customization is a crucial consideration when choosing a CRM solution. To determine the right fit, you should assess the number of user personas your CRM needs to support and their specific requirements. Additionally, you should consider your clients' expectations for outputs and integrations. While HubSpot has made progress in expanding its range of customizations, Salesforce has always been known for meeting complex business needs. Salesforce's unlimited customization potential is evident in its massive library of powerful integrations, which makes it a scalable option. Moreover, Salesforce's customization interface is more user-friendly, offering a simple drag-and-drop option that does not require coding. This "clicks-not-code" advantage allows users to design their own business apps in just a few hours.
WINNER: Salesforce
Analytics and Reporting
---
The next question to ask when considering HubSpot vs. Salesforce is how valuable insights are to your business. Both platforms offer advanced reporting and analytics capabilities, with HubSpot being created to disrupt conventional marketing analytics. They both can display the basics, such as sales on Day 30 of last month vs. Day 30 of this month or the current conversion rate of your leads. But what if your CRM could accurately forecast sales for the next month and pinpoint any weaknesses in your business? Wouldn't it be great to diagnose what causes those weaknesses and the specific improvements you could make? While both CRM platforms support business intelligence tools, we have observed that the higher you climb the analytical tree, the further behind HubSpot lags. HubSpot simply lacks the connectivity and customization options that Salesforce offers. With Salesforce, you're not just choosing a CRM; you're choosing quality business decisions. It gives you industry-leading analytics with Tableau, augmented by the intelligence of Einstein AI. For Salesforce users, predictive analytics is already available.
WINNER: Salesforce
Automation and AI
---
When it comes to artificial intelligence (AI), it may seem like a futuristic concept to many, but in reality, we use it every day. In Salesforce, AI is seamlessly integrated into the CRM workflow, with Einstein machine learning silently gathering data and providing intelligent insights, predictions, and guided actions. The platform also offers easy automation through a user-friendly drag-and-drop interface, empowering teams to work smarter and boosting productivity over time.While HubSpot has made progress in AI, it still lags behind Salesforce in terms of functionality, flexibility, and maturity. Ultimately, your choice of CRM is not just a software decision but a reflection of your innovation culture. As of now, Salesforce is the clear winner in this category.WINNER: Salesforce
The Final Verdict
---
When comparing HubSpot vs. Salesforce, while HubSpot has advantages in cost and ease of implementation, Salesforce wins in customization, analytics, and AI. Salesforce also has a strong collaborative community and a wealth of learning materials. Thus, Salesforce is the clear choice for long-term future-proofing and scalability, even if it requires higher investment and longer implementation time.